Shannon & Ryan's Wedding Reception – Crowd Surfing in Reston Virginia
By John Caniford In Weddings On October 2, 2011
---
A rainy Saturday was not going to dampen this Wedding! We already knew this wedding was going to be a blast, but we couldn't have ever imagined there was going to be crowd surfing by the Bride and Groom and even the Father of the Bride.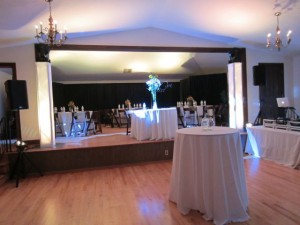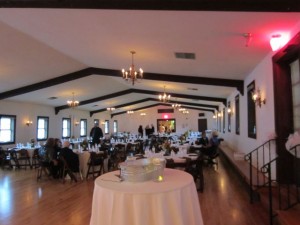 The venue was gorgeous with dark wood beams and beautiful hardwood floors. The sweetheart table where the Bride and Groom sat and a few other tables were up on the stage in front of the dance floor. We had uplights on the stage in gold that added a nice ambiance to the room.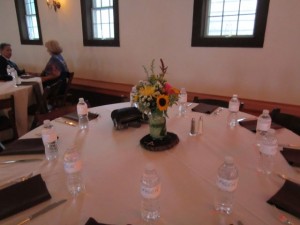 The tables were decorated with beautiful yellow and green flowers on top of carved wood with the table numbers.
The Bride is a HUGE Michael Jackson fan and all the introductions were MJ songs. Their first dance was Alicia Keys "Empire State of Mind" and you could truly see the love and passion this couple has for each other!
During dinner we played a real soft mellow piano instrumental of Journey's "Don't Stop Believing". It didn't take long until the whole room broke out into a sing-a-long in the middle of dinner! We were waiting for a "Flash Mob" to break out.
Right after the Father/Daughter and Mother/Son dances, the dance floor opened up and stayed packed the entire night!
A few guests started dancing on the stage and then jumped into the crowd. A few songs later the Groom decided to give crowd surfing a try! He jumped back and was flying off the stage! The Father of the Bride joined the Groom and they jumped together this was so crazy! Nothing we have every seen at a wedding maybe a rock concert! The Bride wanted to give it a try and was flying all over the place! Everyone was having an AWESOME time!!
Everyone was having such a good time that we played a little longer than originally planned. We even had a few people having a dance off to Michael Jackson's "Beat It" in the middle of the dance floor.
This was one of the best weddings we have ever been a part of! The Bride and Groom told us they had a WONDERFUL night and that's what it is all about! We love when people have such a good time they will be talking about their party for years to come!
---