Kyle & Michael Toth 6-30-2012
By Tracy Caniford In Weddings On June 30, 2012
---
The sunshine came out Saturday in the DMV area after a night of horrible storms that swept through the area and left tons of damage and thousands without power. Read more….
We packed up the truck and headed to the Evergreen Country Club for Michael and Kyle's wedding. It was extremely hot and humid outside but we knew it wouldn't put a dampen on this party.
The room was decorated in gorgeous pinks and lime greens. The tables had white table clothes with stunning green and pink flower arrangement. We used pink uplights around the room.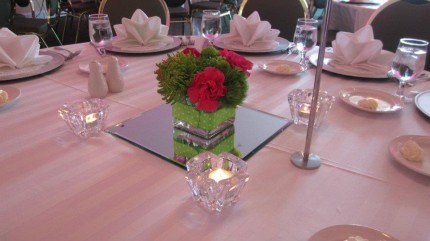 The dance floor was in the middle of the room across from the head table. We used our dual '6.5″ totem set up with 2 moving head fixtures on top and also had both totems uplit.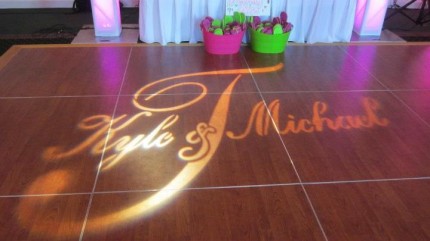 Michael and Kyle were awesome to work with and such a fun couple. They met playing basketball and had an awesome grooms cake that was a full size basketball shoe on top of a shoe box.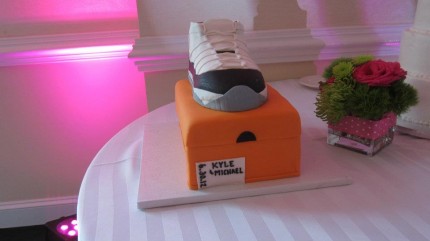 The bridal party was introduced to "Levels" by Avicii and everyone came in dancing and having a good time. The bride and groom came in to Jock Jams "Let's get ready to rumble" and started the party off on a high note. Their first dance was "A Thousand Years" and then rolled into Baby Got Back, Dance, and Sexy and I Know It! Check out this awesome video!
The groom and all the groomsmen dressed in board shorts with their tux shirts and jackets! They had dancing flip flops in buckets on the dance floor so everyone could get out on the dance floor and have a great time!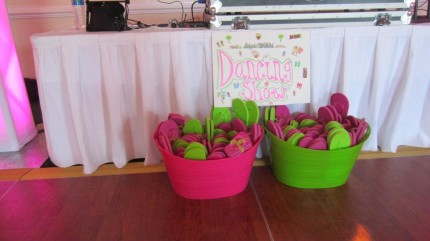 Once the dance floor was opened it was packed until the very end. Everyone danced and had an amazing time. It was such an awesome group of people that were ready to party and have a good time. The bride and groom danced all night and even lead the group in "The Wobble."
Michael and Kyle did the "swap garter", the girl that caught the bouquet was switched out with Michael and had the guy that caught the garter blindfolded and slid the garter up the groom's leg before he found out who's leg he was feeling!
This was an amazing wedding with lots of memorable moments and we will definitely remember Michael and Kyle's wedding as one of the best events of 2012!
We wish them a lifetime of happiness together as Mr. & Mrs. Michael Toth!
---