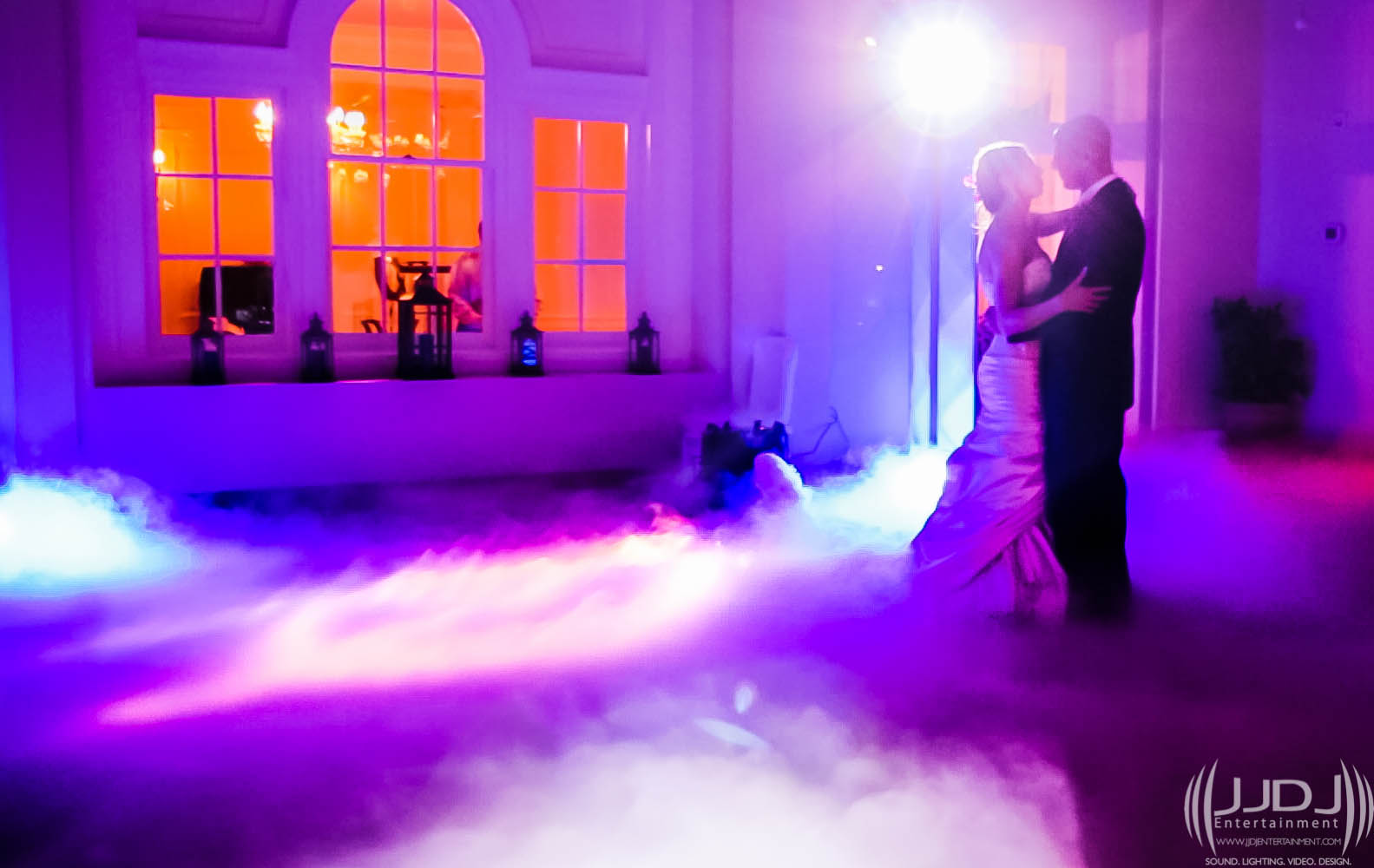 Keren & Jeremy's Wedding 05.19.2013
By Tracy Caniford In Weddings On June 12, 2013
---
Keren & Jeremy had their ceremony and reception at Whitehall Manor in Bluemont, Virginia on a Sunday afternoon. The threat of rain was surrounding the area for most of the day. The sun came out just for a brief moment right when Keren and her Father walked out of the manor house toward the ceremony that was being held outside on the lawn. It was a beautiful ceremony and the rain held off just long enough for all the guests to get inside for the cocktail hour and reception. The venue had beautiful dark wood beams and stunning white columns. We used blue uplighting around the whole room. It really transformed the room and complimented the purple and blue wedding colors. We had a custom monogram on the dance floor. Keren and Jeremy have an inside joke about penguins and had some adorable personal touches throughout the room. During the mating season penguins gather on beaches with a pebble in their possession and each penguin will present his/her perfect pebble to the mate he or she most desires. If the pebble is accepted, they are mates for life! How cute is that? Each guest got a pebble with their name and table assignment on it. Each table had a different penguin as the table name and a story behind each one. Who knew there were so many kinds of penguins? We especially liked the penguin bride and groom they had sitting in their seats!
Keren and Jeremy were dancing on the clouds, it was absolutely breathtaking. This is an awesome new feature that we offer and it allows the couple to have a special dance on the clouds. It's like something out of a fairytale. We had the privilege of working with one of our favorite photographers. Mindy & Joriana Belcher with Ever After Visuals, they do amazing work and are always awesome to work with. It was a wonderful wedding with tons of personal touches and we wish them a lifetime of happiness as Mr. & Mrs. Jeremy Stick!
Check out some of our images and videos we were able to capture! Also check out their awesome review we received! Thank you both for allowing us to be a part of your special day!
If you want the best, go with JJDJ    

We cannot say enough good things about John and Tracy. Leading up to the wedding, John helped us create a timeline of events for the evening. His attention to detail ensured the evening was a total success. His suggestions to include the newlywed game, and "garter switch" were some of the highlights of the evening. Many of our guests commented how clever both ideas were!
During our first dance, we used the fog machine to simulate the look of dancing on a cloud. Unfortunately the air-conditioning was on, and it prevented the fog from sitting on the floor. We did not even notice, but John did. At the end of the evening after everyone left, he asked the venue to shut off the air-conditioning, and we redid our first dance. It was just as special the second time, and the pictures that resulted were truly amazing.

Often when a couple plans a wedding reception they interact with numerous vendors. Last July Keren was diagnosed with thyroid cancer. We stopped focusing on our wedding, and shifted our attention to her treatment and recovery. Throughout Keren's treatment and initial recovery, John contacted us to see how she was doing. He repeated said if there was anything he could do, to please let him know. His actions and genuineness are why we are proud to call him a friend.

JJDJ provided lighting, music, and fun twists that exceeded everyone's expectations. They went above and beyond, and have truly become our friends. We cannot wait to meet up with John and Tracy for burgers and ice cream.

Do yourself a favor, and book with them. You will be amazed at what they can do, and how they make your event truly special.

Jeremy & Keren Stick
Dancing on the Clouds

Newlywed Game

Father Daughter Dance

Mother Son Dance

---