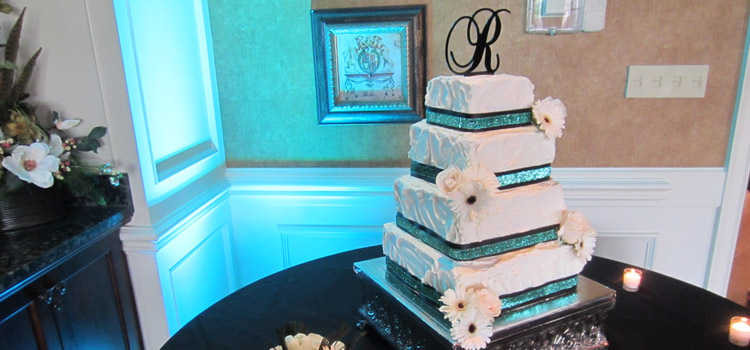 Jamie & Aaron Rutten 5-19-2012
By John Caniford In Weddings On May 19, 2012
---
We had the pleasure of being a part of Jamie and Aaron's wedding on May 19, 2012 at the Dominion Valley Country Club in Haymarket, Virginia. Read more…
It was an absolutely perfect day for a wedding. This was one of the most touching weddings we have done, there was so much love and happiness between these two.
They had the ceremony outside on the lawn in front of the water fountains. It was a breathtaking view and they had personalized their vows to make their ceremony unique. It was truly heartfelt and you could see both of them holding back the tears.
The reception was held in the main ballroom, we used full room teal uplighting which worked perfect with the dark room. We had our signature dual totems and 2 moving heads on the dance floor. We also had a customized monogram on the dance floor.
Jamie and Aaron danced the first time as husband and wife to "A Thousand Years", there was so much passion between these two! Check out our videos! Everyone had a great time dancing and it was an awesome wedding. We wish them a lifetime of happiness together as Mr. & Mrs. Aaron Rutten!
---