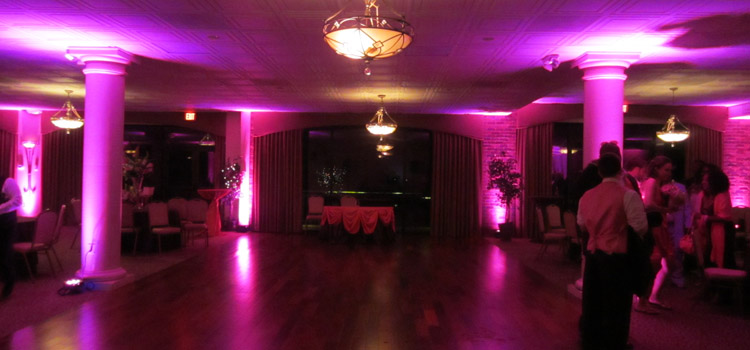 Ashley & John Clement 9-7-2012
By Tracy Caniford In Weddings On September 7, 2012
---
We had the pleasure of being a part of Ashley and John Clement's big day on September 7, 2012 at Harbour View in Woodbridge, Virginia. It was a beautiful venue on the Occoquan River at the marina. Read more….
They had their ceremony on the venue's first floor open-air veranda. It was a gorgeous ceremony overlooking the Occoquan River. The reception was held upstairs in the large ballroom with windows that ran the entire ballroom overlooking the marina. The venue had a brand new hardwood dance floor installed that was the entire width of the ballroom. The room was decorated in gorgeous pinks and chocolate brown. The tables had chocolate brown satin tablecloths along with hot pink napkins and beautiful flower centerpieces that alternated heights among the tables.
We did full room uplighting in pink and ran our signature dual totems with two moving heads along with a customized monogram on the dance floor.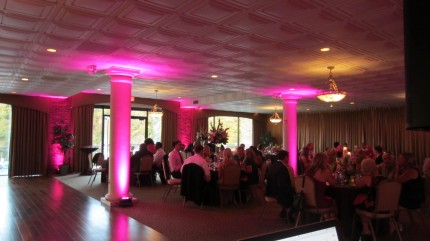 The bridal party was introduced to "Party Rock Anthem" and the bride and groom to "Sexy and I know It" LMFAO and from the start we knew this was going to be a fun wedding! The Father/Daughter and Mother/Son dances were very touching, especially the Mother/Son dance was "A Song for Mama" Boys II Men.
As soon as the open dancing started, the dance floor was packed and everyone was there ready to have an awesome night. We got some great footage of everyone enjoying themselves. We kept the dance floor packed until the last song of the evening.
This was an amazing wedding and we wish them a lifetime of happiness together as Mr. & Mrs. John Clement!
---