Gutherie's Wedding at Osprey's Landing in Belmont Bay, Virginia
By John Caniford In Testimonials, Weddings On November 6, 2011
---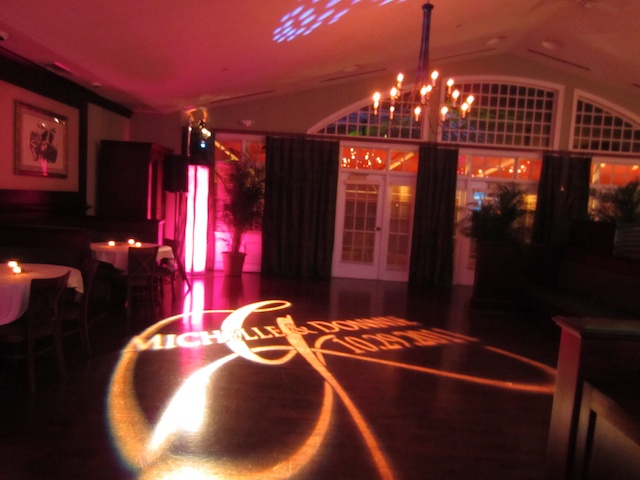 We had the privilege to be apart of Michelle and Donnie's Wedding Reception last Saturday October 29th. They had their wedding at Osprey's Landing in Belmont Bay, VA. Despite the awful snow like weather we were having that day in October we had an awesome party. From the start of planning this wedding we knew it was going to be a lot of fun. Michelle and Donnie wantedhigh-energy music along with glow sticks and they even had salsa dancers during the cocktail hour. The venue had a unique layoutwith the tables for dinner in one room and the dancing along with the DJ booth in the bar area. The bar area was decorated in Cuban inspired items. We had an amazing monogram on the dance floor along with two totems. The room looked awesome with the dark wood and the lights. We had blue up-lights throughout the hallway and the main dinning room.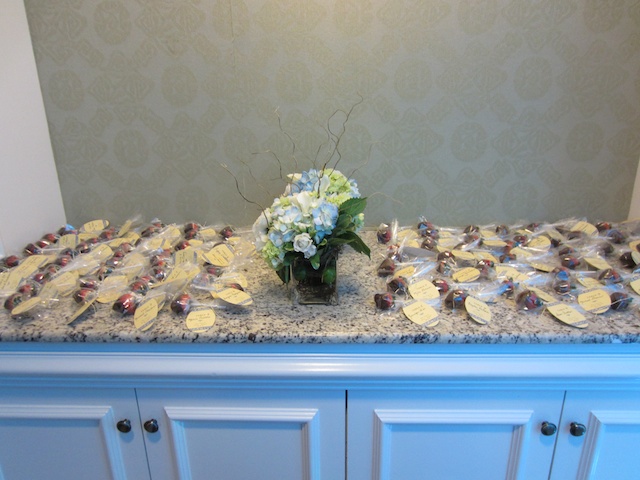 The escort cards were chocolate covered strawberries. They had bottles of red and white wine as the table numbers on each table. They had an amazing cupcake tree along with a top cake.
We had trivia questions about the Bride and Groom for the guests to answer in order to be released for the buffet table.
Once the dancing started it didn't end until the last dance of the evening! We had a great time and everyone seemed to be having a blast. We had a lot of fun during the bouquet and garter toss. We had the guy that caught the garter blindfolded and swapped out the girl who caught the bouquet with the groom! It gave us some hilarious video footage.
Michelle and Donnie danced the night away with their friends and family. We had a great time and wish them many years of happiness together!
Michelle just recently sent in this review for her wedding reception!
JJDJ Entertainment is absolutely hands-down the best DJ service you will ever find! John puts so much of himself into every aspect of your event that you feel as though he's planning his own wedding. His level of detail is amazing and he truly cares about your vision. His fiance Tracy works by his side to ensure all the little details are carried out to the letter and you feel as though family is taking care of you. I knew instantly that my wedding would be as I wanted it and I had PEACE OF MIND. All brides know that with the stresses of planning a wedding, peace of mind is a wonderful thing. 

It's comforting to know that there are people out there who truly care and when they tell you things will be taken care of and they actually are…it means so much. John at JJDJ Entertainment promises the best service and he means it. I've received so many compliments on the music and fun that John provided. My 88 year old father-in-law was on the dance floor shaking it to club music! How many DJ's can claim that? My husband and I can't thank John enough for the wonderful time he provided for our family and friends! Thanks again John and Tracy! JJDJ Entertainment ROCKS!!!
---